About the course
The U.G. program in Physics with came into existence during the academic year 2012-2013. The aim of the course is to develop the students' comprehensive ability of using physics and computer applications
Eligibility criteria
Candidates for admission to the first year of the Degree of Bachelor of Science course in PHYSICS shall be required to have passed the Higher Secondary Examinations (Academic or Vocational Stream) conducted by the Government of Tamil Nadu or an Examination accepted as equivalent thereof by the Syndicate of the University of Madras with Mathematics/Physics as a subject of study.
Duration of the course
The duration of the course is three years which includes six semesters with two semesters per year. Each semester has ninety working days followed by examinations at the end of each semester. The odd semesters shall consist of the period from June to November of each year and the even semester from December to April of each year.
Academic progression
The Department of Physics follows the syllabus framed by the University of Madras. It gives an insight into the fundamental concepts in Physics with basic electronics, numerical mathematics and computer science. The course provides a platform for the students to acquire knowledge in both the areas: physics and computer applications.
CAREER PROGRESSION
After the successful completion of the course students have the wide opportunities to get placements in IT departments , labs, Research centers, Teaching profession etc. Moreover it opens two vertical channels for the growth of the student M.Sc (physics) and  M.Sc (computer science) or MCA.
Students are exposed to interdisciplinary problems and encouraged to develop leadership skills.  It is proud that the graduates are highly rated by employers from industry in the private and public sectors.
UNIVERSITY REGOGNITION NO:
A1/FFJ/Affl.Fees/2012 -2013/748. Dated: 04.06.2012.
B.Sc Physics
The inception of the course is to enhance the employability of students, here we stimulate an interest in science among the students and bring out their skills. It helps to achieve excellence in physics and related subjects. English proficiency, computer knowledge and additional aptitude are self driven by this department.
ACADEMIC PROFICIENCY
  Academic Proficiency or Overall Topper prize is awarded to the student who has secured the highest percentage in the University Examinations in the department during her period of study. The first batch of students will be completing their course in April 2015 AND second batch 2016.
| | |
| --- | --- |
| NAME OF THE STUDENT | BATCH |
| P.R.REMYA | 2012-2015 |
| C.MAHALASHMI | 2013-2016 |
SYLLABUS
The department adheres to the syllabus prescribed by the University of Madras on Choice Based Credit System (CBCS).
(Plz  follow this pattern)
CBCS SYLLABUS FOR UG DEGREE PROGRAMME
Year / Semester
Category
Title of the paper
Credits

 

I year – I Semester
Part  I      Paper – I
Language - I

3

 
Part  II     Paper – I
English - I

3

 

 

 

Iyear – II Semester

 

 
Course Components

Subjects

Inst. Hrs
Credits
Exam Hrs.

Max. Marks

Ext. Marks

Int. Marks

    Total

Part – I

 

Language paper I

4

3

3

75

25

100

Part – II

 

English paper I

4

3

3

75

25

100

Part – III
Core I Mechanics & Properties of Matter

5

5

3

75

25

100

Allied paper Maths I - Theory

8

5

3

75

25

100

Core 3 practical  I (PCP)

3

EXAMINATION WILL BE HELD  IN SECOND SEMESTER

Part – IV

 

1(a) Basic Tamil I(b )Advanced Tamil (or)

2

2

3

75

25

100

1(c) Non Major Elective
Soft Skill I

2

3

3

60

40

100
SECOND SEMESTER
Course Components

Subjects

Inst. Hrs
Credits
Exam Hrs.

Max. Marks

Ext. Marks

Int. Marks

    Total

Part – I

 

Language paper II

4

3

3

75

25

100

Part – II

 

English paper II

4

3

3

75

25

100

Part – III

 

Core 2 :  Thermal Physics & Acoustics

5

5

3

75

25

100

Allied paper Maths II Theory

8

5

3

75

25

100

Core 3 Practical I (PCP)

3

4

3

60

40

100

Part –  IV

 

 

1(a) Basic Tamil I(b )Advanced Tamil (or)

2

2

3

75

25

100

1(c) Non Major Elective
Soft Skill II

2

3

3

60

40

100
THIRD SEMESTER
Course Components

Subjects

Inst. Hrs
Credits
Exam Hrs.

Max. Marks

Ext. Marks

Int. Marks

    Total

Part – III

 

Core 4:  Optics

5

5

3

75

25

100

Core 5:  Basic Electronics

5

5

3

75

25

100

Core 6:  Data Structures

4

4

3

75

25

100

Core 7 : object oriented Programming using c++

4

4

3

75

25

100

Practical  II (PCP)

3

EXAMINATION WILL BE HELD ON FOURTH  SEMESTER

Core 8 :  Practical  III Data Structure Lab CCP

3

2
3
60
40
100
Core 9 : Practical IV Programming  in C++Lab CCP

3

2
3
60
40
100
Part – IV

 

Soft Skill

2

3

3

60

40

100

Environmental studies

1

EXAMINATION WILL BE HELD ON FOURTH  SEMESTER

 
FOURTH  SEMESTER
Course Components

Subjects

Inst. Hrs
Credits
Exam Hrs.

Max. Marks

Ext. Marks

Int. Marks

    Total

Part – III

 

Core 10 : Atomic Physics

5

5

3

75

25

100

Elective I Integrated Electronics

6

5

3

75

25

100

Core 11: Operating Systems

5

4

3

75

25

100

Core 12 : Data Base Management  system  using visual basic

5

4

3

75

25

100

Core 13 :  Practical  II PCP

3

4

3

60

40

100

Core 14 :   Practical  V  RDBMS using  visual basic Practical  CCP

3

2

3

60

40

100

Part – IV

 

Soft skill  IV

2

3

3

60

40

100

Environmental  Studies

1

2

3

75

25

100
FIFTH SEMESTER
Course Components

Subjects

Inst. Hrs
Credits
Exam Hrs.

Max. Marks

Ext. Marks

Int. Marks

    Total

Part – III

 

Core 15 : Nuclear  and  Particle Physics

5

5

3

75

25

100

Core 16 : Solid State Physics

5

5

3

75

25

100

Core 17: Discrete Mathematics

4

4

3

75

25

100

Core 18 : Programming in JAVA

4

4

3

75

25

100

Core 19:  Practical  VI  JAVA  Programming Lab (CCP)

3

2

3

60

40

100

 Practical – VII (PCP)

3

EXAMINATION WILL BE HELD ON SIXTH SEMESTER

Practical – VIII (PCP)

3

Practical – IX (PCP)

3

 Part – IV
Value Education

2

3

75

25

100
SIXTH SEMESTER
Course Components

Subjects

Inst. Hrs
Credits
Exam Hrs.

Max. Marks

Ext. Marks

Int. Marks

    Total

Part – III

 

Core20 :  Electricity  and Electromagnetism

5

5

3

75

25

100

Core21 : Relativity and Quantum  Mechanics

5

5

3

75

25

100

Core22 : Mathematical and Numerical  Methods

6

5

3

75

25

100

Elective  II - Microprocessor  Fundamentals

5

5

3

75

25

100

Core23 : Practical – VII (PCP)

3

4

3

60

40

100

Core24 : Practical – VIII (PCP)

3

4

3

60

40

100

Core25 : Practical – IX (PCP)

3

4

3

60

40

100

Part – IV
Extension Activities

1

3

75

25

100
SHIFT - I
Name
Qualification
Designation
Areas of interest
Mrs. Shaik. Najma Nikkath
M.Sc. M.Phil, (Ph.D.,)
Assistant Professor & Head
Atmospheric Science
Mrs. V. Jagadeeswari
M.Sc., M.Phil.,
Assistant Professor
Nonlinear Dynamics
Ms. T. Solaiyammal
M.Sc.,
Assistant Professor
General Physics
Dr. S. Kalaiyarasi
M.Sc., M.Phil., Ph.D.
 Assistant Professor
Nonlinear Dynamics
Dr. G. Vimala
M.Sc., Ph.D.,
Assistant Professor
Solid state Physics
Ms. N. Gowri
M.Sc., M.Phil.,
Assistant Professor
General Physics
PAPER PRESENTATIONS
Academic Year: 2011 - 2012
| | | | | | |
| --- | --- | --- | --- | --- | --- |
| Sl.No | Name of the Staff | Month& Year | Geographic Level(National/International) | Title | Institution |
| 1 | S.NAJMA NIKKATH |  April 2012 | NATIONAL CONFERENCE  | STUDY OF RELATIONSHIP BETWEEN ACTIVITY & GEOMAGNETIC ACTIVITY & CLIMATE CHANGE | PRESIDENCY COLLEGE |
| 2 | S.NAJMA NIKKATH | MARCH 2013 |  INTERNATIONAL CONFERENCE | ROLE OF AEROSOLS ON RAINFALL | BHATAVATSALAM MEMORIAL COLLEGE FOR WOMEN |
| 3 | S.KAVITHA | MARCH 2009 | INTERNATIONAL CONFERENCE | STUDY OF TECHNOLOGY OF AUTOMATIC WEATHER STATION AND ANALYSIS OF SW MANSOON 2008 DATA OF AWS SEASONS AND AUTOGRAPHIC | VOORHEES COLLEGE ,VELLORE. |
|  4 | S.KAVITHA | MARCH 2009 | STATE CONFERENCE | STUDY ON INSTRUMENTATION OF AUTAOMATIC WEATHER STATIONS AND COMPARATIVE ANALYSIS OF CHENNAI AWS DATA WITH AUTOGRAPHIC CHARTS OF THE CO LOCATED OBSERVATORY | ETHIRAJ COLLEGE FOR WOMEN,CHENNAI |
| | | | | | |
| --- | --- | --- | --- | --- | --- |
| Sl.No | Name of the Staff | Month& Year |                                 Title |  NAME OF PUBLICATION | ISBN |
| 1 | S.NAJMA NIKKATH | OCTOBER 2015 | TREND IN PM10 AND METEOROLOGICAL PARAMETERS USING MANN KENDALL TEST -A CASE STUDY CHENNAI CITY | INTERNATIONAL JOURNAL OF CURRENT RESEARCH | O975-833X |
| 2 | S.KAVITHA | FEB 2011 | VARIABILITY IN METEOROLOGIGAL PARAMETER DURING NORTH EAST MONSOON 2010 ANALYSED WITH AUTOMATED MEASUREMENTS AND CONVENTIONAL WEATHER OBSERVATIONS | INEMREC-2011 | DM014 |
| 3 | S.NAJMA NIKKATH | JUNE 2016 | TSEND ANALYSIS AND ESTIMATION OF HURST EXPONENT FOR AEROSEL TIME SERIES OF CHENNAI | INTERNATIONAL JOURNAL OF DEVELOPEMENT RESEARCH | |
ORIENTATION COURSE ON SCOPE OF "SOLAR ENERGY SECTOR IN FUTURE" BY RAJAGANESAN,TECHNICAL AT EDTL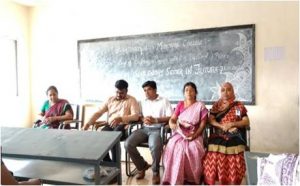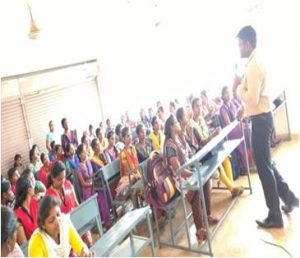 WORKSHOPS, SEMINARS, FACULTY DEVELOPMENT PROGRAMMES
| | | | | | |
| --- | --- | --- | --- | --- | --- |
| Sl.No | Name of the Staff | Month & Year | Geographic Level(National/International | Title | Institution |
| 1 | Mrs.  S.Najma Nikkath | Feb 15 -16, 2013 | National Workshop | Research Methodology and Statistical Tools | Bhaktavatsalam Memorial College for Women, Chennai |
| 2 | Mrs.V. Jegadeeswary | Feb 15 -16, 2013 | National Workshop | Research Methodology and Statistical Tools | Bhaktavatsalam Memorial College for Women, Chennai |
| 3 | Mrs. K.Kumudhavalli | Feb 15 -16, 2013 | Nationaopl Worksh | Research Methodology and Statistical Tools | Bhaktavatsalam Memorial College for Women, Chennai |
| 4 | Mrs.S.NAJMANIKKATH | Feb 20&212014 | State level Workshop | SPSS/MATLAB/CLASS ROOMSTRATEGIES FOR TEACHING LANGUAGES AND LITERATURE IN COLLEGES | Bhaktavatsalam Memorial College for Women, Chennai |
| 5 | Mrs.S.NAJMA NIKKATH | Feb 24&25 2016 | National level | National conference on advances in material scince and Nonliner science(AMSN) | B.S.ABDUR RAHMAN UNIVERSITY,CHENNAI |
| 6 | Mrs.S.NAJMA NIKKATH | 27 April 2015 | National level | CLASSICAL MECHANICS ,ATOMIC PHYSICS&THEORY OF ATOMIC COLLISIONS AND SPECTROSCOPY | IIT MADRAS |
| 7 | Mrs.S.NJAMA NIKKATH | NOV 29 TO DEC 1 | STATE LEVEL | QUANTITATIVE RESEARCH METHODS :APPLICATIONS AND DATA ANALYSIS | LOYOLA COLLEGE ,CHENNAI. |
| 8 | Mrs.S.NAJMANIKKATH | 2&3APRIL2012 | INTERNATIONAL LEVEL | INTERNATIONAL TROPICAL METEOROLOGY SYMPOSIUM | SRM UNIVERSITY |
| 9 | Mrs.S.NAJMANIKKATH | 26th FEB 2016 | STATE LEVEL | PSEUDO CIRCUITS AND MOBILE APPLICATIONS | Bhaktavatsalam Memorial College for Women, Chennai |
| 10 | MRS.V.JEGADEESWARY | 20&21FEB2014 |  STATELEVEL | SPPS/MATLAB/CLASSROM STRATERGIRS FOR TEACHING LANGUAGES AND LITRATURE IN COLLEGES  |  Bhaktavatsalam Memorial College for Women, Chennai |
| 11 | Mrs. K.Kumudhavalli | 20&21FEB2014 | STATELEVEL | SPPS/MATLAB/CLASSROM STRATERGIRS FOR TEACHING LANGUAGES AND LITRATURE IN COLLEGES  | Bhaktavatsalam Memorial College for Women, Chennai |
| 12 | MRS.S.DEEPAVARTHINI | 20&21FEB2014 | STATELEVEL | SPPS/MATLAB/CLASSROM STRATERGIRS FOR TEACHING LANGUAGES AND LITRATURE IN COLLEGES  | Bhaktavatsalam Memorial College for Women, Chennai |
| 13 |  MRS.V.JEGADEESWARY | JAN 22&23 |  STATELEVEL |  EMBEDDED SYSTEM,ROBOTICS&AUTOMATION |  Bhaktavatsalam Memorial College for Women, Chennai |
|  14 |  Mrs. K.Kumudhavalli |  JAN 22&23 |  STATELEVEL |  EMBEDDED SYSTEM,ROBOTICS&AUTOMATION |  Bhaktavatsalam Memorial College for Women, Chennai |
|  15 |  MRS.S.DEEPAVARTHINI | JAN 22&23 |  STATELEVEL |  EMBEDDED SYSTEM,ROBOTICS&AUTOMATION |  Bhaktavatsalam Memorial College for Women, Chennai |
|  16 |  MRS.S,KAVITHA |  JAN 22&23 |  STATELEVEL |  EMBEDDED SYSTEM,ROBOTICS&AUTOMATION |  Bhaktavatsalam Memorial College for Women, Chennai |
|  17 | MRS.V.JEGADEESWARY |  FEB 26 2016 |  STATELEVEL |  PSEUDO CIRCUITS AND MOBILE APPLICATIONS |   Bhaktavatsalam Memorial College for Women, Chennai |
| 18 | Mrs. K.Kumudhavalli | FEB 26 2016 | STATELEVEL | PSEUDO CIRCUITS AND MOBILE APPLICATIONS |  Bhaktavatsalam Memorial College for Women, Chennai |
| 19 |  MRS.S.DEEPAVARTHINI | FEB 26 2016 | STATELEVEL | PSEUDO CIRCUITS AND MOBILE APPLICATIONS |  Bhaktavatsalam Memorial College for Women, Chennai |
| 20 |  MRS.S,KAVITHA | FEB 26 2016 | STATELEVEL | PSEUDO CIRCUITS AND MOBILE APPLICATIONS |  Bhaktavatsalam Memorial College for Women, Chennai |
| 21 | MRS.V.JEGADEESWARY | FEB 25 2016 | STATELEVEL | INTELLECTUAL PROPERTY RIGHTS AWARENESS E&IT SECTROR | Bhaktavatsalam Memorial College for Women, Chennai |
| 22 |  Mrs. K.Kumudhavalli | FEB 25 2016 | STATELEVEL | INTELLECTUAL PROPERTY RIGHTS AWARENESS E&IT SECTROR | Bhaktavatsalam Memorial College for Women, Chennai |
| 23 | MRS.S.DEEPAVARTHINI | FEB 25 2016 | STATELEVEL | INTELLECTUAL PROPERTY RIGHTS AWARENESS E&IT SECTROR | Bhaktavatsalam Memorial College for Women, Chennai |
| 24 | MRS.S,KAVITHA | FEB 25 2016 | STATELEVEL | INTELLECTUAL PROPERTY RIGHTS AWARENESS E&IT SECTROR | Bhaktavatsalam Memorial College for Women, Chennai |